New Q+ Club Announces First Board Of Officers
Board of officers is elected for Q+, a new club at BHS focusing on equal rights for everyone, regardless of gender, sexuality, and more.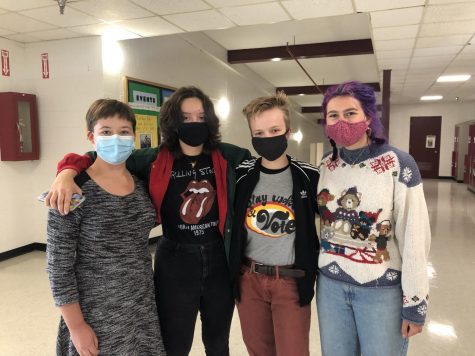 BANGOR–On Friday, October 1st, elections were held amongst Q+ Club members to select the club's very first board of officers. The new representatives are Co-presidents Annalena Wittmann and Sam Conner Self, Vice President Grace Bennett, Treasurer Emily Rutherford, and Secretary Elizabeth Shum. 
Q+ is a new club at Bangor High, formed at the beginning of the 2021-22 school year. It was created through the merging of two former student organizations: The LGBTQ+ Straight Alliance and the Students For Gender Equality.
But what is Q+ Club, exactly? In an interview, new co-president Annalena Wittmann said, "Q+ is an organization of students advocating for social justice regarding gender and sexuality and creating a space to celebrate and support them." 
Last year, Annalena was co-vice-president of Students For Gender Equality, and she is excited about the merge. She says that SFGE and the LGBTQ+ Straight Alliance joined forces to become "a bigger and better club," and that "it's really awesome to see all the new faces this year and have this sense of renewed enthusiasm."
Q+ meets on Friday mornings at 7:30 am in the lecture hall. New members are always welcome.