Football Honors Seniors, Looks to Next Season
As seniors exit the program, a plethora of underclassmen await their chance to write the next chapter in BHS football.
Although Bangor missed out on the playoffs this year, their leaders are not discouraged.
Junior captain Jack Schuck spoke about the football program, saying, "It's just a bunch of respect, a bunch of love for each other. It's one big family. We all have the same mindset… We all want to come here and represent our school and what it means to be a Bangor Ram."
Seniors Connor Boone and Austin Lozano noted the team's constant improvement.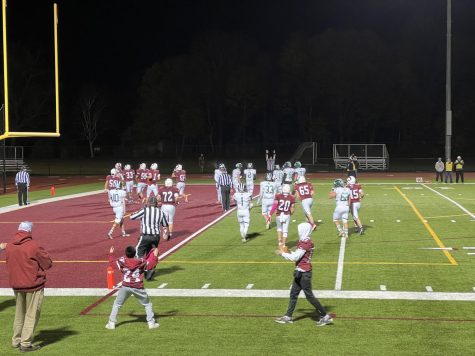 Boone stated, "Everyone here is dedicated. They all have one mission: To get better. And I think that's happening. It may not show up on the scoreboard, but we practice all the time, and the dedication we're putting in is not going unnoticed."
Lozano, a captain, agreed, saying, "We're getting better every day, which I think is the big part. It's progressing. Obviously, our record doesn't show it, but we're definitely something to look forward to."
Freshmen and sophomores made up 70% of the Bangor football team. They will graduate an unusually small number of seniors.
Only seven seniors will leave Bangor football this year: Boone, Lozano, Anthony Baker-Paul, Nick Biberstein, Cole Damon, Deon Gaudet, and Cayden Miner.
Their homecoming game was a 16-6 win. Bangor took an early lead over Edward Little with points from one touchdown each for Boone and Schuck, two extra points by senior Nick Biberstein, and a safety by junior Parker Small.