Bangor Track Sweeps PVC Large School Titles
Both the boys' and girls' team won their respective league championships.
BANGOR—Last Saturday, both Bangor track and field teams won PVCs by substantial margins.
Bangor's teams began the Eastern Maine Indoor Track League Championship in the afternoon of February 11, and by the early morning of February 12, they were leaving UMO's New Balance Field House victorious.
The Bangor girls cruised to a sizable victory with 181 points over runner-up Brewer's 102 points. With a total of 91 points, the Bangor boys were 18 points ahead of the team across the river. Between both sides, 35 athletes placed in the top 6 in their events, making them eligible to score points and win medals.
The 1st-place 4x800m relay of Madison McLean, Sophia Mazzarelli, Jenna Elkadi, and Katie McCarthy opened the meet. Their season best of 10:36.24 was over a minute faster than Hampden Academy's 2nd-place finish. McCarthy picked up another win later in the 800m run. Mazzarelli placed 3rd in the same race. Freshman Alexis Blue also made the 800m podium with a 6th-place finish. McLean placed 5th in the 1-mile run. All four of these athletes ran personal bests in their individual events.
The 4x200m relay was the final girls' event and also posted a Bangor win. Callie Tennett, Maddie Cyr, Evelyn Humbert, and Madeline Thai finished with a time of 1:50.98, just under the New Balance Indoor Nationals Rising Stars qualification time of 1:51.00. Bangor met this standard earlier in the season with Tennett, Humbert, Thai, and senior Anna Connors. Their time of 1:48.08 set the school, league, and facility record, as well as the state lead.
In her first meet back from an ankle injury, Connors performed an impressive feat. After being forced to sit out the last week of the regular season, Connors–who has committed to the University of Connecticut–won the 55m, 200m, and 400m dashes. Her 30 points earned her the title of Outstanding Performer of the Meet.
Connors was joined by Cyr, Tennett, and Humbert on the 400m podium. They placed 1-2-3-4, respectively, and hold 4 of the top 5 times in Class A. Tennett and Humbert also scored in the 55m dash with State Meet-qualifying personal bests. Freshman Sophia Chase made second-team all-conference in the 200m dash with a time of 28.00. With her 16-4.25 mark, Chase placed 3rd in the long jump and surpassed the New Balance Indoor Nationals Freshman qualification standard of 15-10. Senior Samantha Erb placed second in the long jump with a lifetime best of 16-9.75. Erb placed 5th in the 200m dash as well with another lifetime best of 28.39. Senior Taylor King placed 3rd in the triple jump with a season best of 32-4. Junior Emma Syphers placed 6th in the high jump.
The Bangor girls took three more individual wins. Senior Julia Bassi won the shot put with a throw of 37-7.75. Like all of her meet bests from this season, this throw exceeded the New Balance Indoor Nationals Rising Stars qualification standard of 35-00. Senior Anika Noack took 1st in the pole vault with a mark of 9-0. Senior Nora Marasco placed 2nd with 8-6. Freshman Alice Thibodeau's 7-0 clearance earned her 4th place. Sophomore Madeline Thai won the 55m hurdles with a time of 9.39. Junior Chase Smith placed 5th with her 10.23 finish.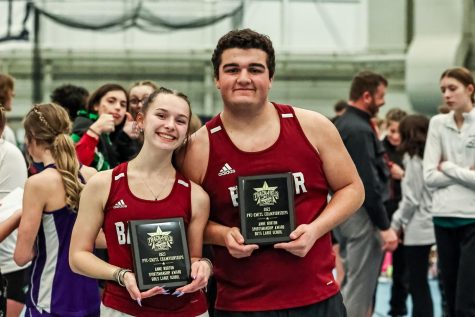 The Bangor boys executed a team win without placing 1st in a single event. Their highest individual scorer of the meet was junior Gage Jones, who placed 2nd in both the 55m and 200m dashes. His final time of 6.66 in the 55m tied the personal best he set in the preliminary heats. Jones was the first to cross the line in the 400m dash in what would have been a lifetime best of 54.17. Unfortunately, he was disqualified due to interference. After it was alleged, this controversial call was fiercely debated by Bangor athletes and coaches. Jones approached the incident maturely, later commenting, "medals don't define me."
The boys' 4x200m relay of Kiran Small, Rowan Eslin, Oliver Turner, and Lucas Sun placed 2nd, just 7-tenths of a second behind Brewer's relay of 3 seniors and a junior. Bangor's relay, comprised of 1 athlete from each grade, was the youngest on the track. Despite this, they beat 5 relays, many of which had 2 or more seniors.
Small, a junior, and Sun, a senior, each racked up 10 points outside the relay. Both scored in the 200m dash with personal records, placing 3rd and 5th, respectively. Sun placed 2nd in the 400m dash, running a time of 55.46. This was a lifetime best for Sun by nearly half a second and also met the Class A State Meet automatic qualification standard. Small placed 4th in the 55m dash with a final time of 6.81, just off his personal best of 6.79, which he set in prelims.
The underclassmen in the boys' 4x200m also contributed individual points to their team's win. Turner, a sophomore, and Eslin, a freshman, were 2 of 4 Bangor athletes who earned medals for the pole vault. Turner placed 3rd with a mark of 9-6, and Eslin's 9-0 vault was good for 5th. Sophomores Anthony Godfrey and Kaiden Schmersal, both new to the event, tied for 6th with 7-0. Turner also competed in the 55m hurdles. Entering the meet, he was seeded 7th out of 7 and was not expected to score. He made the finals and upseeded to earn 5th place. Turner's final time of 9.74 shaved over a second off of his previous personal record.
The Bangor boys found success in other field events as well. Senior Josiah Rodriguez, junior Ian Randall, and senior Austin Lozano took 2nd, 3rd, and 4th, respectively, among the throwers. Sophomore Seamus MacDonald was the only underclassman on the high jump podium, earning 4th place.
On the distance side, seniors Ethan Partal and Ethan DeMerchant added vital points to the scoreboard. Partal's 3rd-place finish in the 1-mile run and 4th-place finish in the 800m run earned him 10 points. DeMerchant achieved a season best of 10:32.83 in the 2-mile run. The points from his 4th-place finish helped secure the win for Bangor.