Bangor Girls' Track Team "3-peats" at Class A States
The Bangor girls, led by the undefeated class of 2023, won the Class A state title.
BANGOR–On February 20, the Bangor girls became Class A indoor track state champions for their 3rd consecutive season.
The Class A Indoor Track State Meet was proof that seeds do not solidify results.
Although a steadily comfortable lead was expected, the girls' state title was not clinched until Bangor's final runner broke the line. In a meet full of unanticipated results, the Bangor girls proved that toughness wins out.
The girls' state title was their 3rd in a row, after winning in 2020 and 2022. There was no 2021 season due to the COVID-19 pandemic, but Bangor would have been the favorite in that year as well. The Bangor girls' class of 2023 went completely undefeated in their indoor track and field career. The talent and work ethic of this class allows them to say that they fell to no team.
Senior sprinter Anna Connors suffered a recent ankle sprain, which prevented her from achieving her usual sweep of the three sprints. Still, her mental stamina led her to the top 3 in each of her events.
Although Connors was running before a full recovery, only two athletes bested her at the State Meet. Scarborough's Caroline Fallona and Emerson Flaker took 1st and 2nd, respectively, in the 55m dash. Connors finished 3rd, still with an admirable time of 7.38 seconds. Flaker later won the 400m dash, roughly a half-second ahead of Connors.
Connors defended her 200m dash title in her final event of the day. Despite being cut off by Edward Little's Makenna Drouin, Connors rose to the top of the field. Connors drew attention to the interference by extending her arm, and Drouin was disqualified for the lane violation. Her egregious obstruction of Connors could have hindered the UConn-bound sprinter's win. Fortunately for the Bangor Rams, Connors was the only athlete to run a legal time under 26 seconds. The issue did not prove to be controversial in terms of points.
Three individual sprinters aside from Connors stepped on the State Meet podium. Junior Callie Tennett upseeded in the 55m dash for 6th place. Her times of 7.55 in prelims and 7.56 in finals met the New Balance Nationals Rising Stars qualification standard of 7.58. Tennett later competed in the 400m dash, placing 3rd with a season best of 1:01.67. Junior Maddie Cyr finished about a second behind Tennett with a 1:02.65, which was good for 6th place. Senior Samantha Erb placed 8th in the 200m dash with a lifetime best of 27.88.
Erb placed 3rd in the long jump with a mark of 16-7.25, just off the personal best she set at PVCs. Freshman Sophia Chase jumped a personal best of 16-10.50 and placed 2nd. Both Erb's and Chase's performances were barely short of the 17-00 standard for the New Balance Nationals Rising Stars category.
In the pole vault, the senior duo of Anika Noack and Nora Marasco contributed to 9 of Bangor's points. Noack placed 4th with a 9-0 clearance, and Marasco placed 5th with her 8-6 mark. Both vaulters tied their season bests at States.
The girls' distance team added 16 points to Bangor's victory. Junior Katie McCarthy finished 3rd in the 800m run with a time of 2:27.30. Senior Sadie Harrow's 12:06.66 in the 2 mile run earned her 5th.
Both of the girls' relays found the top 3 at States. The 4x800m relay of junior Sophia Mazzarelli, sophomore Jenna Elkadi, Harrow, and McCarthy placed 3rd in the first running event of the girls' meet. The 4x200m relay members were identical to last year's: Tennett, Cyr, senior Evelyn Humbert, and sophomore Madeline Thai. In the final event, they vied for the event title and the state championship. After calculating points, Bangor coaches informed the relay members that they needed a top-5 finish to secure the team's win. Thai and Scarborough's Fallona had a tight race on the final lap until Fallona eventually pulled away for the win. With a 2nd-place finish in the 4x200m relay, the Bangor girls clinched the state title.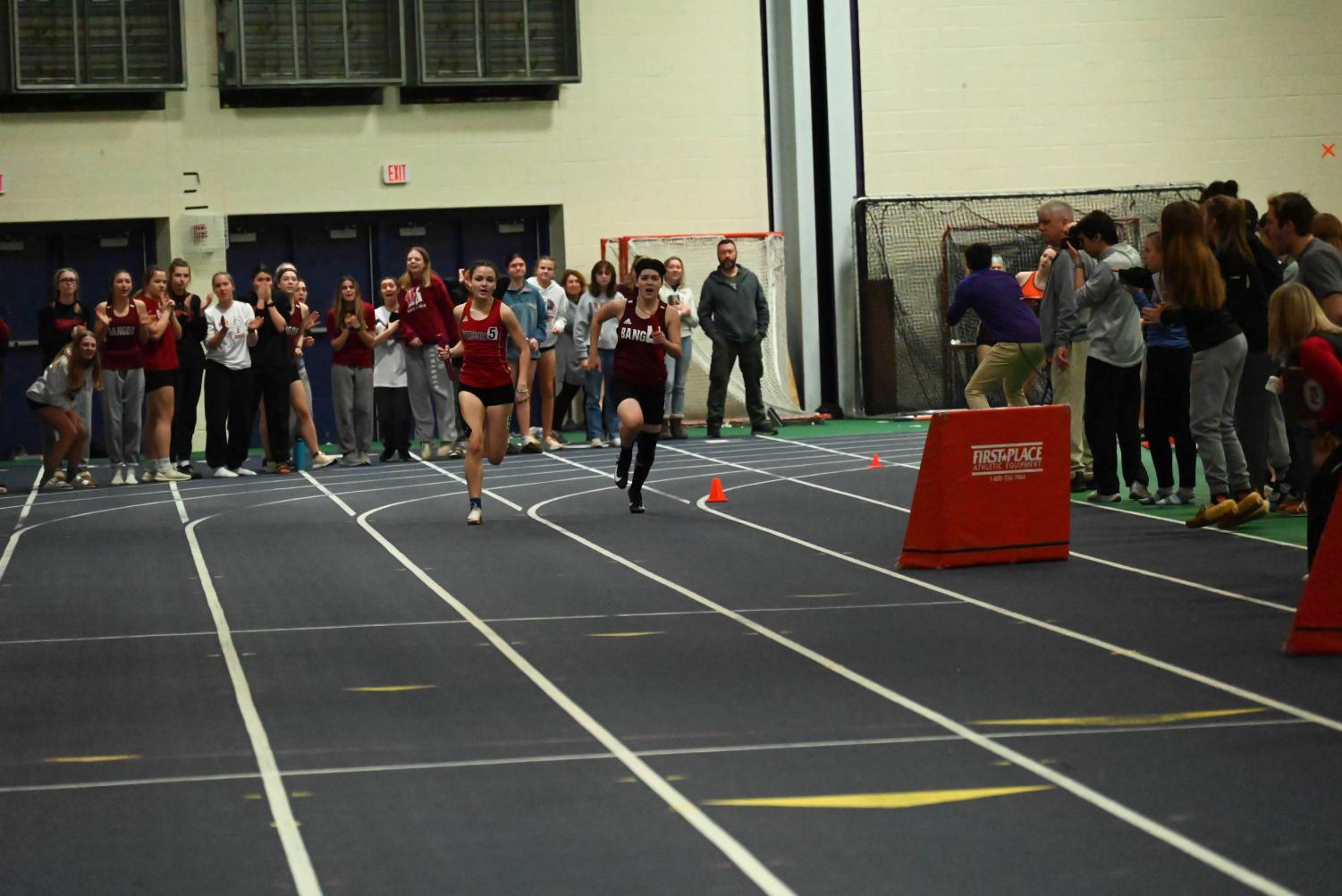 All of Bangor's State Meet throwers placed in the top 8. Senior Julia Bassi dominated her competition at States, continuing an undefeated season. Bassi's best throw of 36-06.25 was over 3 feet farther than the 2nd-place mark, which is an impressive margin. All 6 of Bassi's attempts surpassed every other athlete's throws.
The Bangor boys, who placed 13th, put athletes on half of the shot put podium. Junior Gage Jones, senior Josiah Rodriguez, junior Ian Randall, and senior Austin Lozano placed 2nd, 4th, 6th, and 8th, respectively. Jones threw 47-04 on his final and best attempt. He was edged out by Scarborough sophomore Nate Murray, who threw 47-11, also on his final attempt.
Jones, traditionally a sprinter, later competed in two sprint events. He barely missed the 55m dash finals after three very fast preliminary heats. Kiran Small, also a junior, upseeded with a personal best of 6.70 in prelims. Small made finals and placed 8th. Jones took another 8th place in the 200m dash.
Another 8th-place finish came from freshman Rowan Eslin, who had a personal best of 10-0 in the pole vault. The 4x800m relay of Ethan Partal, Henry Poulin, Alex Busko, and Ethan DeMerchant also earned 8th place, despite not running in the fastest heat.
The 2023 New England Indoor Championship will be held on Saturday, March 4. Ten individuals and two relays from Bangor High School qualified for this regional meet. Bassi, Jones, and Rodriguez are entered for the shot put. Chase and Erb will compete in the long jump. Tennett will run the 55m dash. Connors will run the 300m dash, which replaces the 200m dash. Similarly, Cyr will compete in the 600m run, which replaces the 400m dash. McCarthy will be in the 1000m run in place of the 800m run. Harrow will run the 2 mile. The girls' 4x200m and 4x800m relays will run at New Englands as well. The athletes in each relay are subject to change after qualification. For example, Cyr ran on the 4x200m relay that qualified at the State Meet. However, Connors will be running on the relay instead of Cyr at New Englands. The 4x800m relay will consist of Mazzarelli, Elkadi, junior Allison St. Peter, and freshman Madison McClean.