JROTC Raises Veteran Suicide Awareness
Ram Battalion uses pushups to support awareness for the serious issue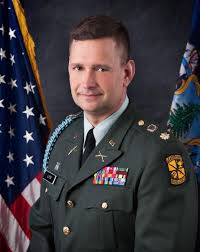 BANGOR–Physical fitness is an important pillar of the Bangor High School JROTC Battalion. And this past September, the battalion found a way to use their exercise regimen to support a worthy cause.
Veterans are 50% more likely to commit suicide than the average American. An estimated 20 veterans take their own lives every day- leading to thousands of suicides every year.
To raise awareness for the issue, the Ram Battalion conducted a push-up challenge to support the cause. At the beginning of every class after formation and announcements, all cadets would spend exactly thirty seconds pounding out as many pushups as possible to add to the tally.
"I'm very proud of the battalion for taking on this important awareness raising event, and executing it with such energy and excitement. I think it really brought the issue of veteran's suicide to their attention and it was a very successful event," says Lieutenant Colonel Darryl Lyon, Senior Army Instructor of the BHS JROTC program.
Within days, the battalion blew past the original goal of 7,300 pushups – the estimated number of veterans who take their own lives each year. 
"Veteran suicide is a pressing topic, and for the Ram Battalion to take action was a huge accomplishment," says Cadet Lieutenant Colonel Melissa Brown, the Ram Battalion Commander.
"We came together as a team and took part in the matter, crushing our ultimate goal in a matter of days. The challenge was taken very seriously, and every cadet took action to achieve the end result, as well as set up goals for themselves. I am very proud of this battalion for raising awareness for the event, as well as staying on top of it to complete it in such a short period of time. We took pride in our success, and hope to keep bringing more awareness to this issue."