Students Gather in School Library to Celebrate Hispanic Heritage Month
Different Spanish classes gather in the BHS Library to recognize Hispanic people of Maine for the last day of Hispanic Heritage Month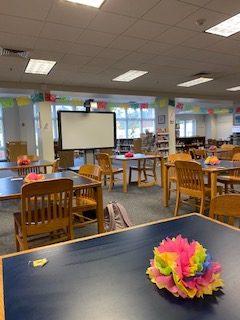 BANGOR—Students that take a Spanish class have worked on brochures for a week.  Each student has picked a person that they want to recognize for Hispanic Heritage Month and will present them to classes who pass by the presenters. The students have to present in either Spanish or English, depending on whether or not the listener knows enough Spanish to comprehend.  
There are about 40 people who are featured in the recognition of Hispanic Heritage Month of Maine.  There are doctors, engineers, professors from the University of Maine, and teachers from different cities, as well as Bangor itself. Two Hispanic people who have been featured work in the Bangor High School: Graciela Dorsa, a Spanish teacher, and Silvana López, a cafeteria worker, are both honored in the presentation.
Being part of the Hispanic community is such an honor; it is a very friendly community.  Ms. López, who is a proud Hispanic woman, says this: "For me, being part of the Hispanic community is wonderful because I get to show my roots. Where I currently come from, here in Bangor there is a group of Hispanics who do activities. We share the feeling of being at home, speaking Spanish and emphasizing our culture. People in Maine are very nice to receive immigrants and they like to share and learn about our culture."
Profesora Dorsa is also very proud of her nationality; Hispanic Heritage Month means a lot to her. She says, "I feel proud of being part of the Hispanic Heritage Month Recognition. Being a teacher gives me the opportunity to proudly share my Argentinian culture so that I can uplift other minorities around me. Being Hispanic and living in the US means embracing two cultures at the same time, and sharing my multicultural mindset with others."
So, why should we recognize Hispanic immigrants? López answers the question: "I think that it is important to recognize the immigrant culture because they contribute a lot in work.  They help us learn the wonders of cultures, like gastronomy, music, and the way we dress.  We can contribute and learn from each other regardless of where we come from."  
Overall, the Hispanic Heritage Fair was a great success. There was Spanish music, and everyone did very well on their presentations.  Good job to everyone and a big thank you to the people who came alone to this amazing fair!